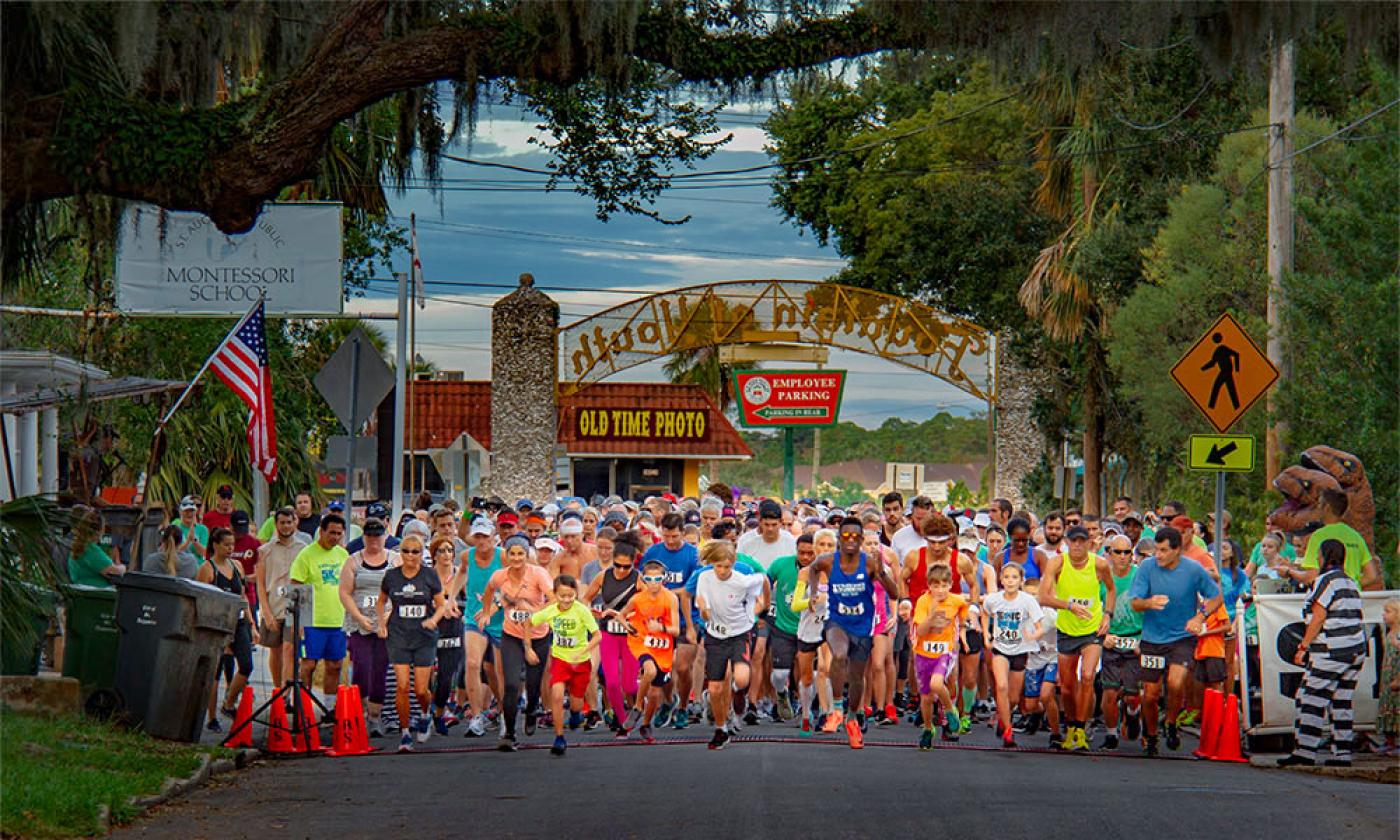 Jail Break 5K
Saturday, October 21st, 8:00am
The Old Jail – 167 San Marco Avenue St. Augustine, FL 32084
Our mission: To provide innovative programs, teacher support, and classroom resources to promote the academic success of all St. Johns County public school students.
ENTRY FEES
April 15 – April 30 = $25
May 1 – May 5 = $25 (Special pricing!)
May 6 – July 31 = $30
August 1 – September 30 = $35
October 1 – October 19 = $40
October 20 (in-person at packet pick-up only) = $40
Race Day Registration Oct. 21 (in-person at packet pick-up only 6:30-7:30 AM) = $45
VIRTUAL ONLY = $45
VIRTUAL RACE

Can't #ESCAPE with us on October 21? Make your escape virtually! Sign up for the Jail Break 5K VIRTUAL option and submit your results to RunSignup. You can pick up your JB5K race swag on October 20th at Packet Pick Up or we will ship your swag to you after the race. There will be no awards for the virtual race.
In the event of inclement weather, emergency or a natural disaster, INK! reserves the right to cancel or postpone the race. In the event of cancellation or postponement, there will be no refunds.
SCHEDULE OF EVENTS
Pre-Race Packet Pick Up/Registration: Friday, Oct. 20, 2023, 4:30 – 6:30 PM Old Town Welcome Center, 1305 North Ponce De Leon Blvd. St. Augustine, FL 32084
Race Day Packet Pick Up: Saturday, Oct. 21,2023, 6:30 – 7:30 AM – The Old Jail,167 San Marco Ave, St. Augustine, FL 32084
Race Start: Saturday, October 21, 2023 – 8:00 AM – The Old Jail,167 San Marco Ave, St. Augustine, FL 32084
Jail Break After Party: Saturday, October 21, 2023 – 9:00 AM – 10:30 AM at The Old Jail, 167 San Marco Ave., St. Augustine, FL 32084
PARKING

Free parking is available at the Old Town Trolley Depot,167 San Marco Ave. in St. Augustine. Paid parking is available at the Historic Downtown Parking Facility, adjacent to the Visitor Information Center at 1 Cordova St. in downtown St. Augustine.
COURSE
Runners and walkers are welcome to escape with us from the historic Old Jail, in uptown St. Augustine! Starting at the Old Jail, run through beautiful Magnolia Avenue and over the Vilano Bridge to make your escape to the Atlantic Ocean. Shuttle transportation for all racers will be provided at the finish returning to the start.
There will be water stations at the start, 1 mile, 2 mile, and finish.
The Jail Break 5K is a 5K USATF Certified Course # FL17069TY.
AMENITIES

Beautiful finisher's medal, distinctive t-shirt, unique themed course, with costume contest, refreshments, and family fun. Availability and size of t-shirts only guaranteed to those who register by September 30, 2023.
AWARDS
Overall Male and Female finishers and the top three runners in the following age groups: 9 and under, 10-14, 15-19, 20-24, 25-29, 30-34, 35-39, 40-44, 45-49, 50-54, 55-59, 60-64, 65-69, 70-74, 75 and older.
COSTUME CONTEST

The Jail Break 5K Halloween Costume Contest will again take place at the Jail Break 5K 2023 race! Run/walk in costume to win one of three cash prizes. Prizes will be awarded for the top three (3) costumed participants and will be determined by a panel of local celebrity judges.
PUBLIC SCHOOL TEAM CHALLENGE

St. Johns County Public Schools are invited to register students, families, friends, faculty, and staff as a team in the Jail Break 5K Team Challenge. The public school with the highest number of registered participants will receive a one-of-a kind Jail Break 5K Team Challenge trophy, bragging rights, and a $1,000 award for your school! Prize money will also be awarded to the 2nd and 3rd place public school teams registering the 2nd and 3rd highest number of event participants.
RACE TIMING AND SCORING
The race will be professionally timed and scored by Hasselmania Productions LLC. The race will be timed using disposable, electronic tags attached to the bib number. Please wear your bib number to the front, pinned at all four corners, visible, and unaltered. Printed results will be posted at the race site and live online during the race at www.RaceSmith.com
FOR MORE INFORMATION